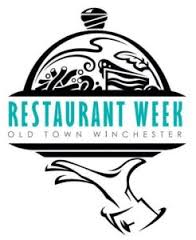 September 11th through the 16th – Restaurant Week in Old Town Winchester may be the favorite among all activities to enjoy in and around Winchester.  We have a plethora of venues at which to try special menus prepared by local chefs at each of the participating locations. Though Culinary Masters strive to both impress and satisfy us each day, there is just something about Restaurant Week in Old Town Winchester that simply brings out the best in the chefs, the preparers, the servers, and all who work so hard all year round (and doubly so during Restaurant Week). And who benefits the most from these efforts?  WE DO!
As an added bonus everyone is also helping to support The Winchester Main Street Foundation (WMSF). WSMF strives to keep Old Town vibrant and bring family-friendly, fun events to the community.
So without any further ado… let's get to the Old Town Winchester Restaurant Week, September 2017 Lineup (in no particular order)!
Participating restaurants offer two people for the price of one at $25 (lunch only) or a three-course dinner menu for $30 each night they are open. Take this as an opportunity to dine inexpensively at some of your favorite restaurants, plus try out ones you've never been to before.  You may find a new or another favorite to keep in mind for future visits!
As always… The Dream Weaver Team really hopes to see you there on any or all of those days!!!