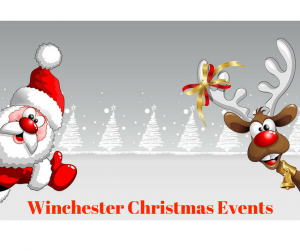 Ready to indulge your Christmas and holiday spirit? You'll find everything Christmas, Santa, and holiday related going on in and around Winchester in the month of December here, from craft bazaars to choral concerts. See something we missed? Let us know so we can add it!
Nov 24 – Jan 1 – Walking in a Winter Wonderland
Don't miss Frederick County Parks & Recreation's annual light show – memories to last a lifetime! Don your stocking caps and wrap those scarves tight as you take a magical stroll through this winter wonderland. Warm up in the cabin, where you might run into Santa, or with some hot chocolate and cookies!
Nov 27 – Old Town Holiday Parade and Tree Lighting
Celebrate the fun and excitement of the holiday season in Old Town Winchester. Bands, floats, and specialty units along with Santa will be coming to see you. Don't forget the tree lighting ceremony, immediately following the parade. The Old Town Christmas Parade will be held on Monday, November 27 beginning at 7pm and lasts until about 8pm. The parade route is Cameron Street to Piccadilly to left on Braddock St. to left on Cork St. and finish at Loudoun St.
Dec 1 – Krampusknacht
Join us on First Friday of December for the 3rd annual gathering of Krampus enthusiasts. Get into your Krampus finest and head down to the Old Town Mall on December 1 for an evening of costumed revelry!
Dec 1 – Winery Christmas Tree Lighting
Join us for our third annual lighting of the winery Christmas tree! There will be mulled wine and complimentary cookies as we gather around the tree – this event is great for kids, too! We will light the tree at 7 PM, but come early! Santa Claus is here all evening for pictures with the kids, and Shenandoah Conservatory Musical Theatre Students perform live from 5-8pm!
Dec 2 – Christmas Craft Bazaar
Shop 95 Christmas craft vendor spaces, selling gifts for that person who's hard to shop for! We also have the kitchen open with baked goods and excellent soups, and Chick-fil-A breakfast sandwiches! Doors open at 8am Saturday, Dec. 2. Santa will be here by 11am, so bring the kids!
Dec 2 – Free Photos with Santa, and Cocoa with a Cop
Bring your little ones to meet Santa and get high quality digital, professional photos for FREE at the United Way of Northern Shenandoah Valley. Optional donations for United Way NSV will also be collected. FREE Cocoa with a Cop! Come enjoy hot cocoa and meet your local Winchester Police Officers! There will also be FREE children's fingerprinting!
Dec 1-2 – Christmas Carols
Favorite carol settings including "Ave Maria" (Biebl), "Shepherd's Pipe Carol" (Rutter), "Tomorrow Shall Be My Dancing Day" (Willcocks), "A Spotless Rose" (Howells), and more!
Dec 2 – Lunch with Santa
Come and enjoy this festive holiday party hosted by Rotary Club of Frederick County! We are a non-profit organization that is raising money to help support our local community. We will be offering pizza, pictures with Santa and a variety of fun activities for the whole family!
Dec 2 – Santa Claus at the Farm
For the first year ever, Santa and his sleigh are making an extra special stop at the farm! We are so excited to have him visit and add to the experience of selecting the perfect Christmas tree.
Dec 2 – Adult and Child Christmas Cookies
You and your young chef are invited to join us for this fun class designed for adults and children to share. The two of you will work together this month to make delicious holiday cookies. This class offers the opportunity for you to laugh and work as a team while learning valuable skills.
Dec 2-3 – Living Nativity
Follow the Star is a live nativity outdoor guided walking tour that is presented by Fellowship Bible Church in Winchester, Va. This year's event will be held on December 2-3, 2017 from 6-9 p.m at the Kernstown Battlefield.
Dec 3 – Caring Santa
Please join us for a private photo experience for children with special needs and their families on Sunday, December 3 from 7:30 am to 10 am. Children will have the opportunity to visit with Santa and have their photo taken with him. Apple Blossom Mall has made necessary adjustments to the environment to support the sensory, physical and other developmental needs of children of all abilities for this special event.
Dec 3 – Middletown Christmas Parade
Celebrate the Magic of the Holiday Season as horses, floats, bands and more take a tour down Historic Main Street Middletown on December 3. Parade begins at 2pm with a special visit from Santa and Mrs. Claus.
Dec 5 – Unsilent Night
Join Shenandoah Conservatory in this holiday tradition with Phil Kline's Unsilent Night, and parade through the Old Town Winchester Walking Mall with boom boxes and mobile devices as new-music carolers!
Dec 6 – Cookies with Santa
Enjoy some tasty treats while visiting with Santa at Winchester Parks and Recreation's annual Cookies with Santa program for children ages 1+. A variety of holiday-themed crafts will also be available for you to be creative at your own pace. Register by December 4 (no registrations take day of the event). Fee: $5/child.
Dec 7 – Healthy Eating: Holiday Treats
Join us for an evening of healthy choices suitable for those following Keto, Paleo, Low Carb, Gluten-Free or Low Sugar diets. Let Nibblins co-owner Susan Dolinar help whip up some healthier comfort foods.
Dec 7 – Thieves Christmas
Join us for annual STC Thieves Christmas Party! Bring and wrap a gift valued at $10 or less to take part in the second half of the night. The night will start with networking from 6-6:45pm. Dinner will be served at 7pm followed by a round of Thieves Christmas.
Dec 8 – Winchester Community Choir Christmas Experience
The Splendor of Christmas, arranged and orchestrated by Bradley Knight, and originally performed by the First Baptist Choir of Jackson.
Dec 9 – Breakfast with Santa
Join us on Saturday December 9th from 9 to 11 for our Breakfast With Santa. Breakfast will include pancakes, sausage, sausage gravy, fried apples, scrambled eggs, juice, milk and coffee. Santa will be available for pictures. See our flyer for more details. All proceeds go towards our Christmas family.
Dec 9 – Cheer and Carols
A wonderful evening of music to benefit the Laurel Center (formerly Shelter for Abused Women) in Winchester, VA
Dec 9 – Nibblins Breakfast with Santa
Nibblins invites you and your family to join us this Saturday morning for breakfast with Santa! Let us serve you breakfast while your children sit on Santa's lap. We will have three seatings at 9:00 and 10:00 am and 11 am, each lasting 45 minutes. The cost is $30 for a family of 4 with $12 for each additional adult and $7 for each additional child.
Dec 9 – Friendship Fire Holiday Bazaar
There will be a wide variety of items for sale, including jewelry, candy, baked goods, holiday decorations, and clothing! What a perfect opportunity to finish your holiday shopping while supporting a great cause!
Dec 9 – Holly Jolly
Come spend some time in Old Town this holiday season during our Holly Jolly Celebration on December 9th! Enjoy caroling and holiday activities including free holiday wagon rides. Specials at shops and restaurants all day.
Dec 9-10 – Nutcracker Ballet
Virginia Youth Ballet presents the Vostrikov's Academy of Ballet in The Nutcracker at John Handley High School Patsy Cline Theater Saturday December 9th 2017 at 2:00pm 7:00pm & Sunday Dec 10th at 2:00pm John Handley High School
Dec 10 – Pet Photos with Santa
Join us for the 2nd Annual Pet Photos with Santa! This event is free to the public. Enjoy a complimentary professional photo by Stephanie Leigh Photography & Design. We will also be collecting items to be donated to the local SPCA. We can't wait to see what furry (or non-furry) friends come this year. We even had a lizard last year.
Dec 10 – Cocktails at Christmas
Join Belle Grove Plantation for this festive cocktail party that has become an annual tradition. Each year we create a special cocktail featuring Copper Fox Distillery's Belle Grove 1797 Whiskey. The evening will also include holiday music and the chance to tour the decorated Manor House lit by candlelight.
Dec 15 – New Orleans Christmas with CWired and Friends
It's a Paws-itively Awesome Event and its all about the fur babies ! Its time to share some Christmas hugs and donations with our furry friends who are less fortunate and need a little extra love this time of year.
Dec 15 – Santa Claus Day
Santa Will Be Meeting All Of You And Handing Out Toys!!
Dec 16 – Yuletide Feast
Be welcomed with a cup of Wassail….Have a holiday dinner in King's table style, complete with traditional bûche de noël as the King & Queen preside over a group of performers for your entertainment. The Master of Revels directs the merriment and explains some of the customs of Medieval life.
Dec 16-17 – Song and Story for a Festive Season
Holiday songs and stories from diverse cultures in our own neighborhood.
Dec 17 – Brunch with Santa
Enjoy brunch with Santa. There will be two seatings at 11:00am and 1:00pm.