In an era where businesses come and go with lightning speed, a handful of establishments in Winchester have stood the test of time, weathering the winds of change for over a century. These venerable institutions have become woven into the fabric of the city's history, witnessing economic booms, societal shifts, and technological advancements. Their remarkable resilience and adaptability have not only ensured their survival but also made them cherished landmarks and icons of Winchester's heritage.
SOLENBERGERS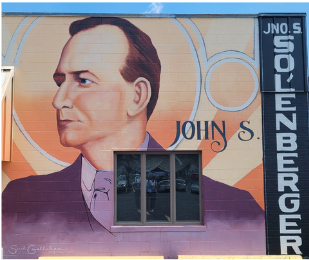 Today passersby of 140 N Loudoun St may notice the Solenberger's historic sign on the side of the building, without having an understanding of the buildings legacy. John Stouffer Solenberger, facing physical challenges caused by polio, founded Solenberger & Stouffer in 1888 as an alternative to working on his family's farm. The hardware store initially thrived, but a fire in 1908 forced its relocation to North Loudoun Street. John S. diligently adapted to changing times and shifted the store's focus to meet the needs of a growing Winchester community and remained in the building for 85 years. The business weathered economic ups and downs, from the prosperity of the 1920s to the challenges of the Great Depression, and of course Covid recently.
John S. ensured the well-being of his employees by keeping them on the payroll during difficult times. You can easily observe this continued tradition through current employees who have been with the company for 50+ years. His sons, Howard, Hugh, and Herbert, took over the business after his passing in 1935. Hugh's son, John T., joined the company in 1955 and made significant strides, even promoting an African American employee to a management position during a time of racial tension. Today the store's legacy is retold in a large mural at their current location on Berryville Ave, and through each transaction.
Solenberger's True Value Hardware has served the Winchester/Frederick County area for 135 years. Patti Solenberger says "the keys to our success as a Winchester institution include continual change, community involvement, loyal employees and customers, heirs with a vision to continue the legacy and God's amazing grace."
BELL'S FINE CLOTHING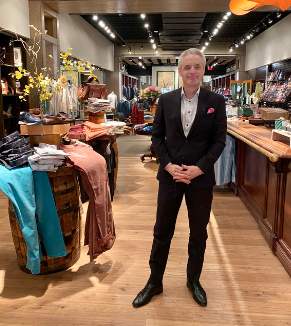 Samuel Shendow's journey began during the Great Depression when he established a loyal customer base in Winchester as a traveling salesman for Bell's in Washington, D.C. Recognizing the city's potential, he opened his own store in 1931, adopting the name Bell's and introducing superior-quality clothing and custom tailoring services to the area. Shendow's attention to detail and his ability to source hard-to-find items, even during wartime rationing, solidified the store's reputation for excellence.
Today, Bell's remains a testament to the values instilled by its founder. Shendow's son Irvin, daughter-in-law Sarah, and grandsons Scott and Stephen continue to curate a collection of timeless clothing and accessories, adapting, and upholding the enduring principles Samuel created. The store encapsulates a mini museum to the history Bell's has not only seen, but created.
With fashion changing rapidly, Stephen reminded us that looking in the mirror while buying clothes is like peering into the mirror of life itself. It is not merely a reflection of our physical appearance, but a profound reminder of the choices we make and the paths we navigate. Just as we carefully select garments that align with our unique style and enhance our confidence, so too must we consciously choose the experiences, relationships, and opportunities that shape our journey, as Winchester businesses have been doing for centuries now.
H.N. FUNKHOUSER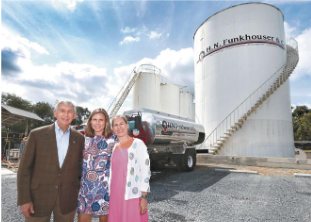 Hugh Newell Funkhouser founded his company during the Great Depression in 1932. He began by going door-to-door selling kerosene for cooking stoves and lamps, adding heating oil to his business as it flourished and coal and wood fell out of favor. Until 1950, when Funkhouser hired Bob Castleman as a second driver for $30 a week, it was a one-man show. When the Korean War sent Castleman away, Robert H. Claytor joined the company, and his son, current CEO Bob Claytor, was only the seventh employee when he joined in the 1970's. H.N. Funkhouser now employs over 400 people, including Claytor's daughters, Cary Nelson and Rieman Royston.
Funkhouser continued to innovate and change their offerings, expanding into gasoline, lubricants, and eventually 22 Handymart service stations, Dunkin Donuts and Subway locations, a wholesale lubricant business, and an HVAC and plumbing business. Today, we are accustomed to seeing convenience stores that sell gas and food; nevertheless, Handymart was the first in Winchester to offer both services.
When you talk to Bob Claytor, he will tell you that his worldview is based on the idea that charity is the rent you pay for living in a nice neighborhood. He believes that we must all be willing to say yes to our community. That includes H.N. Funkhouser's leadership serving on many non-profit boards, volunteering, and donating to local groups, including 5 cents of every gallon of agricultural heating fuel sold going to the Virginia FFA Foundation. Bob and his family are staunch supporters of the "support local, spend local" movement.