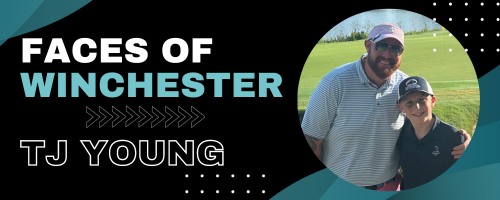 TJ – Please tell us about yourself!
I currently live in Stephens City with my Wife, Gena and 2 children (Austin, 12 and Olivia, 8). I work for an IT support services firm called Virasec and have been a Sr. Account Manager with them for 6 years. I am the classic story of a guy who had absolutely no idea what he wanted to be when he grew up and when I least expected it, life has just shown me who I'm supposed to be. I got my first job in the IT field, while I was a bartender/server and one of my regulars just offered me a sales job out of the blue. I didn't know much about the IT field, or sales for that matter, but he said "I just need someone who can talk to people." The rest, as they say, is history.
What is something fun people might not know about you?
I have an uncanny (read: annoying, if you ask my wife) ability to recall movie quotes in any situation and have often joked that 95% of my daily dialogue was written by a Hollywood writer 😊
What organizations do you currently volunteer/work with, and in what ways?
I work through many, but the primary ones are donations I collect to purchase school supplies and winter coats for children in our community in need and those donations go to Bright Futures. My brother-in-law and I started our own non-profit 2 years ago, IHN Sports, which focuses on raising money, setting up scholarships with local sports programs to help cover the cost of registration fees, equipment and other needs that are associated with youth sports. We focus primarily with the A.L.I.C.E. (Asset-Limited, Income-Constrained, Employed) community, as I've heard far too many stories about a single parent having to choose between paying the registration fee for their child to play or buying groceries that week. Outside of that, I mainly just keep an ear out for local members of the community that have fallen on hard times and I just try to help them out as best as I can. By no means do/can I do any of this on my own. Its only with the help and support of my amazing network of friends and colleagues that make any of this possible.
What motivated you to start volunteering, and how did you first get involved with your current organization(s)?
I cant really cite a specific event or calling, but I have always just wanted to be helpful. During covid I was buying groceries for those that were immune-compromised and couldn't leave their houses and helping raise funds to help with the costs associated. It really just took off from there.
How do you feel your volunteer work aligns with your personal values and interests?
They are in lock-step. I was raised with a servants heart and to always help where I can. I have been blessed in my life and been given far more chances than I deserve, if I'm being honest, so I don't take that for granted. If I can help make someone's day a little brighter, I see that as a responsibility.
Can you share a memorable experience or story from your time volunteering that had a significant impact on you?
Absolutely! The first year that I decided to do the winter coat drive was after I read a heartbreaking story about a 10 year old boy having to get his 5 year old sister ready for school in the morning. In doing so, he had to give her his only sweatshirt because it was 40 degrees outside and neither of them had winter coats. The story goes a lot deeper but even just typing it brings up some raw emotions. So I decided to start with Facebook and seeing who would be willing to help. Through that, I found out that a neighbor of mine worked with the head start program with Frederick county public schools. She mentioned a little girl in the program that came to school with the same clothes on every day and that she would give her gym close to wear, while she washed her outfit each morning. She gave me her sizes and we went out and got her a brand new winter coat. It seemed like such a simple, insignificant thing to me, but the response my neighbor gave me after delivering it to the little girl is worth all the riches in the world. She said she had never seen a little kid beam with so much pride, so much happiness than she did when that little girl wore it to school the next day. She said it was probably the first "new" article of clothing she had ever received and she adored it. That, right there, is what it is all about.
What brought you to Winchester?
I moved to Winchester in May of 2005. A friend of mine had bought a house out here and was looking for a roommate. I really had no idea what I was doing with my life so I said "why the heck not!" and moved out here with him. I've been here ever since and have no interest in leaving any time soon.
Beyond your volunteer work, what are some of your other hobbies and interests?
I enjoy traveling with my family. We're a big Disney family and go to Disney world a lot. As a result, I became a Disney travel agent so that I could help my friends out whenever they wanted to take their families. I have a small woodworking shop I run out of my garage. I found a love of woodworking about 6 years ago and I don't do it to make money or anything like that, I just find it very helpful as a form of therapy, almost. Lastly, anything that involves sports. Whether its coaching one of my sons teams, Watching it on TV or even playing with a bunch of other middle-aged guys that also like to pretend they are still athletic, I'm all for it.
Tell me about your favorite aspects of the Winchester community.
The last word of that sentence. Community. I grew up a military brat and moved frequently. I've lived all over this country and I never realized that the term community wasn't always a noun. In Winchester, it's a verb. The amazing people are what make it a community. I love the small-town vibe, the school rivalries that still endure 50 years later and the love that everyone has for this area. It's truly second to none.
Are there any specific places or events in Winchester that you particularly enjoy or recommend to newcomers?
That's a tough one, as I feel like there are so many. Apple Blossom was my first community event and it is so much fun. The entire thing, from the wine festival to car shows. I love the whole thing. Just about any event on the walking mall is always going to be great as well!