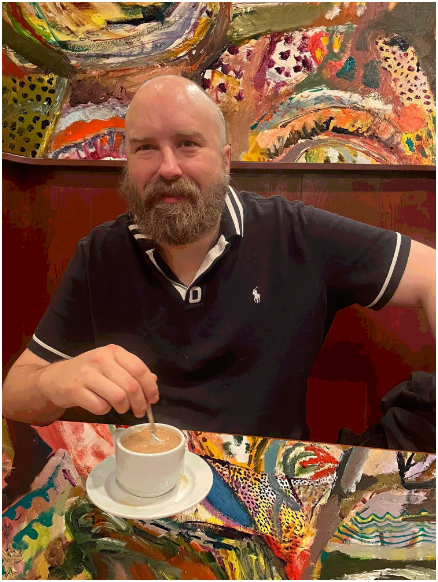 Sam Grantham's passion for art has been a constant presence throughout his life. Sam's artistic journey began in third grade when he won the school's calendar art competition, securing the October spot with a captivating portrayal of witches, goblins, and concealed faces. This early success left an indelible mark on Sam's artistic style as he is still most inspired by faces which show up in his art on almost every canvas.
Sam speaks openly about his mental health struggles that have influenced his art. During his time at military school Sam's artistic talents truly blossomed. Supported by an encouraging instructor, he began taking ADHD medication, initially intended to improve academic focus. Remarkably, this medication also proved to be a catalyst for his artistic achievements, resulting in multiple victories in school art contests.
Upon enrolling in community college, Sam embraced Adderall, which further elevated his artistic abilities. However, addiction became a significant challenge. An unexpected turn occurred when a friend asked Sam to paint the side of their truck. Eager to learn, Sam asked for acrylic paint and brushes. This marked a transition from precise ink drawings to vibrant paintings, characterized by intricate patterns for shading.
After relocating to Richmond, Sam's artistic journey took another turn. A chance discovery of a closing art shop presented an opportunity to explore oil painting, a medium he had previously deemed expensive. Sam fell in love with oil painting, with a particular focus on portraying faces against interactive backgrounds.
Sam felt like his artistic journey reached a milestone when he was asked to exhibit his work in a gallery. However, Sam believes his excessive stimulant use eventually led to a psychotic break, believing he could communicate with people telepathically Sam knew something was wrong. Diagnosed with schizophrenia Sam withdrew from school to concentrate on his mental health.
Overcoming his dependence on stimulants proved to be a turning point for Sam. Despite long-held beliefs that he couldn't create art without these substances, the pandemic prompted a change. Sam invested in approximately $1000 worth of oil painting supplies, opting for larger canvases. To his surprise, he thrived without ADHD medication, demonstrating improved self-control, and found his passion in large canvases.
Sam began selling his paintings, marking a new chapter in his artistic journey. You can currently view his artwork at Village Square, Water Street Kitchen, and local art shows.
Learn more about Sam and explore his art at SamGrantham.com