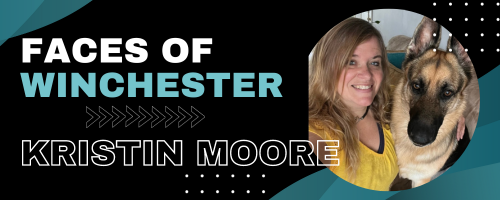 Kristin – please tell us about yourself!
My name is Kristin and I am married to my husband John who is a personal trainer and we own a training studio called MPT Now Health and Fitness. I still train too but very part time, and have limited it to a few clients. I mostly train teenage boys. I have two sons, two daughters in law, and 6 grandchildren. I have an older brother, a mom, and my dad is in heaven. I have extended family and friends who live here in the US and in Ireland!
Something you may not know about me is I was into dirt bikes as a child and was a real daredevil.
I own my own pet sitting business MPT Now Pet Sitting Services and have 30 people on my team reaching all areas surrounding Winchester and up and down the Shenandoah Valley and reaching into NOVA. I've volunteered as a youth leader since my youth and mentored many teens. I'm still continuing to do that. I've saved a few animals that I've found and have gotten surgery for them as well as found them homes. We have a non profit, The Lynx Foundation which provides financial help for anyone who needs surgery or acute medical care for their pets if they are having a hard time affording it.
We are also collecting food in our training studio for people and animals in need. With our non profit The Free Fit Foundation, we provide scholarships for training to those people who need it and may not be able to afford it. We also have a YouTube channel through our business MPT now Productions called Way Moore Adventures where we go on excursions as well as feature local businesses to try and support small business owners in our area. Our goal is to help as many people and animals that we can. I love how small businesses and people have come together to help one another on our small town! As a newcomer to the area I recommend trying different locally owned restaurants, farms and retail to encourage local business owners.