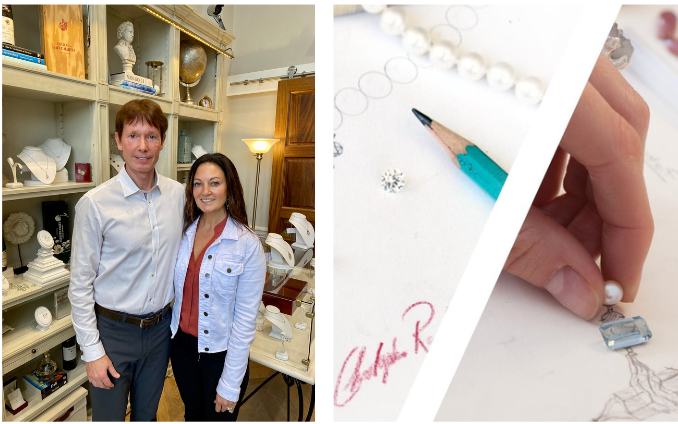 Tucked away just before the elevators and the grand entrance to the ballroom of the historic George Washington Hotel, there lies a gem (pun intended) – the jewelry studio of Christian Caine Design. This boutique shop, designer-led and locally owned, is the brainchild of Christopher Rankin, a nationally recognized jewelry designer with a background in gemology and manufacturing.
The name "Christian Caine" is a play on Christopher's own name, with "Caine" being his grandmother's maiden name. Christopher's journey to becoming a renowned jewelry designer began when he received encouraging newspaper clippings from his grandmother while working a job he didn't love in Washington, D.C. She urged him to return to the Shenandoah Valley and open a jewelry store. While Christopher had previously worked in a jewelry store during his school years, his educational background was in economics, and his creative side had emerged through painting and drawing in his childhood.
In 1990, Christopher took a leap of faith and opened his first store in Shepherdstown, West Virginia, with a subsequent studio in Winchester in 2016. The spark for his transition into jewelry design came after a trip to Europe with his brother. The pieces he crafted garnered immense popularity among clients, leading him to focus exclusively on Christian Caine designs. This innovation allowed his shop to thrive even when many other jewelry stores were closing their doors. In fact, the last decade witnessed more jewelry store closures than the entire century preceding it.
One of the unique aspects of Christopher's designs is their durability, thanks to his engineering knowledge. His understanding of materials and their properties enables him to create jewelry that can withstand the rigors of daily wear, especially in the case of rings. Christopher's jewelry is not just adornment; it's a testament to his commitment to creating pieces that endure and serve as cherished heirlooms.
Christian Caine Design offers a wide array of jewelry lines inspired by Christopher's travels in Europe. The art, architecture, and cultures he encounters on his journeys serve as the wellspring of his creativity. These inspirations aren't always direct translations of what he sees but are often interpretations of the emotions and impressions these places evoke. To help customers connect with the origins of their pieces, the Winchester studio boasts an array of props, including photographs of buildings, landscapes, wine bottles, and more.
Hidden details and surprises are hallmarks of Christopher's work. For instance, a piece inspired by longboats in Iceland features a symbol on the back known as "wayfare," which signifies "find your way" in Icelandic culture. This symbol, often tattooed, holds both metaphorical and practical significance, representing life's journey and aiding in ocean navigation. While many of Christopher's creations draw from his European adventures, he also pays homage to his American roots. One such piece is dedicated to Shepherdstown, the oldest town in West Virginia, known for its charming wrought-iron fences. Christopher incorporated motifs from these fences into the design, adding hearts to symbolize Shepherdstown as the heart of the area. Might there be a Winchester piece in the future? We hope so! With Christopher Rankin's unique blend of artistry, engineering acumen, and a deep connection to his heritage, each piece becomes a timeless treasure that captures not just moments but memories in metal.
Learn more at ChristainCaine.com