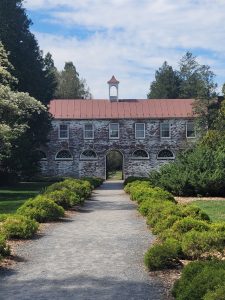 As self-proclaimed Winchester ambassadors, we frequently hear that access to nature is one of local folks' favorite aspects of living here. Blandy Experimental Farms and the Virginia State Arboretum are among the many attractions in Winchester that provide far more than you may realize. On a beautiful spring day, this reporter was given a private tour by the head of public relations, Stephanie Swaim, to discuss everyday activities and the 33rd Garden Fair, which returns on Mother's Day this year.
Graham Blandy donated 712 acres from the Tuleyries estate to the University of Virginia in 1924 to be used to instruct college students in farming skills. While we may not notice it when strolling the various trails, the farm is still an active field study site with students, and every tree has been cataloged and labelled to aid in identification. While most people are familiar with the ginko grove and dogwood lane, there is also a new sundial to relax by, a conifer path, herb garden, iris garden, native plant trail, wild flowers galore, and even horse trailer parking for riding the trails together.
One current experiment you can visually see happening is an ecological restoration project in which a former hayfield that was expected to naturally develop into a diverse forest was instead overrun by non-native buckthorn and autumn olive trees, forming an impenetrable thicket and preventing the establishment of larger canopy trees and under soil vegetation. Funding has been awarded to the project to test multiple methods of invasive tree eradication and native tree regeneration on a 2.5-acre area. As we drove by we could see some of the methods used and will be able to compare as the new vegetation grows.
If you've never been to Blandy, the Garden Fair is a terrific time to go. Blandy's trademark Garden Fair will be held May 12-14, featuring vendors and plant sales, food trucks, music, and refreshments for the members-only preview on Friday night. It is beneficial to bring your own wagon for purchasing plants! Visit Blandy.Virginia.edu for more information!