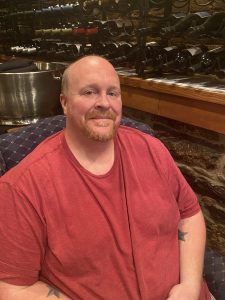 After 18 years as the Chef at Village Square, Dan Kalber, and the general manager Dy Sourisak, now co-own the restaurant. We sat down with Dan to learn more about our beloved Chef.
Visit Chef Dan at all of his restaurants:
Village Square
Water Street Kitchen
Dan's Seafood
Tell us about your history at Village Square.
As of October 1st, Dy Sourisak and I co-own Village Square! Dy has been our general manager for 18 years and I have been the chef for 18 years. He and I often dine together and like experiencing different foods. We are family eaters, and we believe food should be a group event.
What inspired you to become a chef?
Two things actually: The first was watching PBS growing up with chefs like Julia Child and Jacques Pepin. The second was that my older sister, Jessica, used to watch me when school was out and she was scared to cook. I would cook for us, taking inspiration from what I'd watched on TV, but I'd always get in trouble because I never did the dishes.
What chefs do you take inspiration from when creating new recipes now? Who do you follow on social media?
I get my inspiration looking back at old cookbooks, especially old church cookbooks (the ones where members of a church each contribute a recipe). I've gotten a bunch from Blue Plate Books locally, and I always look for them in thrift stores when I travel. You can tell a lot about the food of a place from them.
On social media, I follow Amaury Guichon who is a chocolate artist. We do completely different things, but it is so satisfying to watch what he does. You can tell he has a passion for making food beautiful. I also follow Wolfgang Puck because he's the greatest chef to ever live.
How do you describe your overall cooking philosophy?
I believe in fresh everything: prepare it fresh, make it fresh, and don't hide the food behind strong, pungent flavors. Let the food speak for itself.
Name the three kitchen tools you can't do without?
My Robot Coupe, Vitamix Blender, and my staff. My staff are the heart of it all. Many of them have been here with us for years. You have to find an ability to connect with your staff and take care of them.
–Luke (Dan's WHO for Dan's Seafood) was in the restaurant at the time of the interview and added: Work for Dan and he makes you feel good. That's why we stay.
If you aren't eating in your kitchen, where are you going in Winchester and what do you love about them?
Chinatown, Roma's Old Town, Bonnie Blue, and Cafe Del Sol. My friends own these places and it's the only time we can see each other when we eat in our restaurants. It's refreshing to see those guys.
What has changed in the restaurant business due to social media over the years?
People have stopped communicating with the restaurant. If they have a bad experience, they don't tell us. They hop on social media and post about it. I wish more people would give restaurants a chance to take care of a mistake; because they will.
What is the most exotic food you've ever eaten?
Sea cucumber- it's also the worst thing I've ever eaten.
It's date night, what are you making?
My wife and daughters love steak. So, if I'm cooking, I'm making steak and twice baked potatoes. If my wife is cooking, I always want her spaghetti. She makes the best spaghetti!
What should everyone master first in the kitchen to cook better overall?
The ability to taste and to understand you have to progressively season.
How will owning the business yourself change the restaurant experience for yourself or your guests?
The biggest thing is the feeling of approachability and belonging. I want our customers to feel like I'm an open book, and they can see me and connect with me.
What have you been dying to tell someone but no one has ever asked?
My favorite type of wine – it's champagne… because it goes so well with potato chips! Do yourself a favor. Get the Route 11 regular potato chips and a bottle of Pol Roger champagne. It's a sexy champagne with tiny little bubbles. If I had to pick my last meal, I would just want the largest bottle of champagne and nothing else.
Do you have any hidden talents?
I can juggle! I can juggle all sorts of objects for a really long time.
This article appeared in the December 2022 OldTownist Magazine. Get your FREE subscription at
OldTownist.com