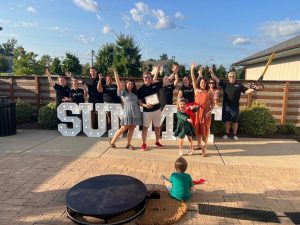 Summit Events began as a passion project for its founder Ben Savory, who developed an early fascination with sound engineering while accompanying his cousin to record sermons at their church. Over the years, this interest evolved into running sound systems during college and supporting friends' weddings. Recognizing the importance of creating memorable experiences, Ben embraced the opportunity to provide sound and DJ services for weddings and events after returning to Winchester with his young family.
The turning point for Summit Events occurred during a wedding at Riverside on the Potomac in Leesburg. Although the event went smoothly and guests had a great time, a deeply emotional encounter with the mother of the bride left a profound impact. She tearfully expressed her gratitude, revealing that her daughter, who had just gotten married, was starting chemotherapy the following day due to a terminal cancer diagnosis. This heartfelt interaction made the founder realize that every event is significant and has the potential to be someone's most important moment. It solidified his commitment to creating extraordinary experiences for people to cherish.
Summit Events aims to elevate life experiences by focusing on the relationships and memories shared with loved ones. Their services extend beyond sound and DJ expertise to include photo booths and event lounges. To enhance events further, Summit Events offers a retro-inspired 1965 Airstream camper that doubles as an event lounge and photo booth. This stylish addition allows clients to create a fully themed event without the need for extensive decorations.
Summit Events also prioritizes giving back to the community. By donating a portion of their revenue to nonprofits and community events, the company supports local organizations and initiatives. While Ben envisions his company as the best entertainment provider for Winchester and Frederick County, his goals to continually give back to the community is what sets them apart. Ben's grandparents were house parents for the Evan's Home for Children in the 1970's and today Summit Events has adopted the organization helping raise thousands through a wing eating contest. They also plan to document an upcoming family reunion for past alumni to develop video and marketing archives that will tell the story for generations to come. Taking local to another level they have also adopted their children's public school and provide photo booths, DJ services and more for school events.
Summit Events continues to thrive as a trusted partner in creating extraordinary events that leave a lasting impact on the lives of their clients and their loved ones. Reach out to them at SummitEventsCo.com