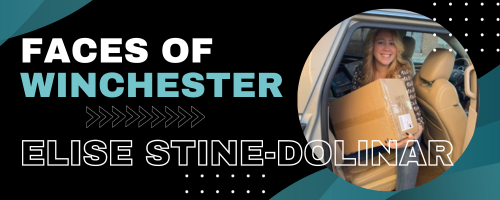 Elise – please tell us a bit about yourself!
I currently live in Winchester and serve as the Bright Futures Frederick/Winchester program coordinator. As an employee of the school system, I manage school donations, source emergency physical goods, manage the weekend feeding program for 1,300 students, and much more.
My husband Brian and I are the parents of two children, Brock, who just turned one, and Joan who is four. Two dogs round out my chaotic life, Bruno, a rescue pit mix from a DC parking garage, and Roxie, a labradoodle therapy dog reject. I tend to stay blissfully over-scheduled with community activities, cooking, gardening, and traveling to see family across New England. I also have a passion for making connections and bringing communities, schools, and families together. My goal is to ensure that everyone has the opportunity for success and to ensure students never have to go without basic needs.
How do you serve the community through Bright Futures?
The majority of my time is spent at Bright Futures, coordinating all levels and aspects of the program with our small and mighty team that is supported by FCPS and WPS. The three of us in the warehouse work hard to source the items that students in our community need to be successful. From coordinating the food pack program that supports more than 1,300 a week, to filling emergency clothing and hygiene item requests, to delivering air mattresses to assist our homeless student population, every day is different.
From season to season our work changes. In the fall we support our schools with Stuff the Bus school supply drives, outfitting 28 schools and their classrooms with supplies as requested. We assembled hundreds of backpacks filled with school supplies for students who would otherwise have started their school year unprepared. In the winter we start outfitting our students with coats, something that no one should be without. We later move on to our Holiday Assistance Program, where we coordinate supporting more than 1,000 students. As the year goes on our days continue to change, with new challenges and heart-breaking stories seen nearly daily. I don't like to say no, so sometimes our solution to these problems can start to look pretty creative and unorthodox, but if a student needs help, we try and find a way.
What motivated you to start volunteering, and how did you first get involved with your current organization(s)?
Sometimes I wonder if it was fate to fall into my line of work. I grew up as the middle child of a therapist for at-risk students and a UPS driver on a rural farm in Vermont. Somehow, when you put those two careers together with my upbringing, you get what I do – working in education, supporting our students, but also loving a day working in our warehouse, loading and unloading a truck. There is nothing like getting your hands good and dirty and then seeing the impact of your work directly when a student benefits. For seven years I coordinated a monthly product sale out of the back of a tractor trailer for a local nonprofit. You don't do that for such a long time without developing a hard work ethic, a knack for volunteer management, and some pretty decent community ties. When the opening at Bright Futures came about, I saw an opportunity to put my existing skills to work and plug in my passion for making things happen for people in need.
How do you feel your work aligns with your personal values and interests?
What I do on a daily basis is impossible to not feel passionate about. The hours and the hard work don't really bother me when you see the direct outcome. Our hard work coordinating drives, organizing, and packing food results in something tangible that can benefit a student. When the result of that work can feed or clothe a child – and that child lives right door to me and goes to the schools I drive by every day – it's impossible to not become invested in doing the best I possibly can to support our mission.
Can you share a memorable experience or story from your time volunteering that had a significant impact on you?
This morning I took a phone call from a high school principal. She shared with me that a boy from her school came to her looking for help with his broken backpack. She offered him hers, a more feminine bag, which he took gladly. Almost immediately she saw the boy being made fun of for the backpack. He quickly returned back to her office, dumped his school supplies out of the bag, and decided to go without. He was crying and felt humiliated after the ordeal. We fortunately were able to respond almost immediately. Through the incredible generosity of our community, we have developed a small stock of school supplies for just these cases, where a student doesn't have what they need to be prepared for school. A nice boy's backpack was in our school supply room. We filled it with a few new folders, a nice water bottle and a pair of headphones, something I would like to think would make him feel a little excited to use and be proud of having. I am happy to say that the boy received them only an hour later. Something like a backpack might not seem like much to some of us, but to this student, it could mean the difference between dignity and being able to focus in school and the decision to not attend. Stories like this one are something we see every day at Bright Futures, where I can accept a donation of a backpack from a local drive one day and have it in the hands of a neighbor the next.
Tell us about the journey that led you to Winchester!
At this point, I have lived in Winchester for just over a decade. I like to joke that my husband married me and trapped me here. We met in college, a real Hampden-Sydney/Sweet Briar living cliche. He later landed a good job near his hometown of Winchester and he dragged me along, kicking and screaming from my dreams of working near the ocean. Winchester has a way of getting its hooks into you, the cute downtown area and mountains that aren't too far from the city are hard to fight. Somehow time has passed and I now find that we have two children, both born in Winchester Hospital, and a life with friends and family that would be impossible to replicate.
Time moves fast and roots are easy to grow when the dirt is as good as it is here.
Beyond your volunteer work, what are some of your other hobbies and interests?
I dream of having hobbies again someday. Right now, keeping my two kiddos and two doggies alive and thriving takes up most of my time outside of my work. If I do ever get a few minutes to myself, which is hard to come by these days, I love to embroider funny sayings, read books on my deck, and cook elaborate meals on Sundays with friends.
Tell me about your favorite aspects of the Winchester community.
This is such a community of helpers. Everyone wants to give back and everyone wants to volunteer. Most places are not like this. Good people live here and make my work possible.
Aside from the people, the mountains, rivers, and countryside are fabulous. I count myself lucky that my work is across from an apple field. It doesn't get much better than that.
Are there any specific places or events in Winchester that you particularly enjoy or recommend to newcomers?
We are lucky to enjoy a vibrant downtown with something going on nearly every weekend. I would encourage anyone looking to meet people to check out local events and volunteer. There's nothing like working together with others to find connections and find a place in a community.