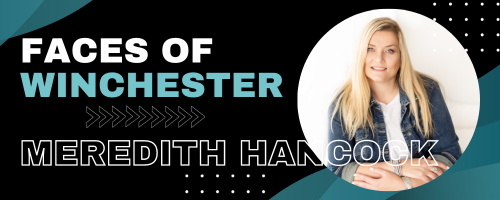 Meredith, please tell us about yourself!
I have been a Winchester resident with my husband (Marine Corps veteran) since 2008. I have a bachelor's degree in digital design and own and operate my own business, Hancock Media. I get to help small businesses and non profits with marketing needs ranging from magazine design, logos, websites, and social media management and do what I love. I love to travel and have gone on mission trips to India and Bolivia. Experiencing different cultures is very exciting and humbling, and I hope to travel more in the future.
What organizations do you currently volunteer with, and in what ways?
I volunteer as the W.O.W. – Women of Winchester Director, volunteer for Oasis church as Communications Director, and lend my time and design skills to local non-profit organizations whenever the opportunity is available. Most recently with the design of the Winchester Rescue Mission logo and their 50th anniversary logo. Valley-Shine is a local non profit I am involved with that makes new jewelry out of broken jewelry to help with transitional housing for women. I also love painting chairs for the SPCA annual Chairity auction. This year will be my 3rd year painting a chair for donation, it's such a great cause.
What motivated you to start volunteering, and how did you first get involved with your current organization(s)?
Seeing a need to serve in the community was a strong motive for me. I have a huge heart for those experiencing homelessness, particularly women. I lost my Mom in 2014 who struggled with addiction, mental illness and experienced homelessness. If I can help just one person it is worth it. The more you give the more you get. I got involved with the Rescue Mission by a friend who was serving on the board a few years ago and jumped at the opportunity to help with the logo.
Valley-Shine was introduced to me by a church friend and I'm so glad I have gotten to know the ladies there.
How do you feel your volunteer work aligns with your personal values and interests?
Serving to make a difference has made a huge impact on my life. I believe in supporting each other through sharing time and resources.
Can you share a memorable experience or story from your time volunteering that had a significant impact on you?
Going to Kolkata India was a life-changing experience. Seeing the huge contrast in how we live in the U.S. vs. a third world country was eye-opening. It made me realize the importance of community and fellowship. Although the villages and people I got to know there had little material things, they were rich in love and community. We could all learn from that.
How long have you lived in Winchester, if you moved, what brought you here?
In 2008 we relocated here and have called it home ever since. We have lived in SC and AZ. We moved back here to be closer to family.
What are some of your other hobbies and interests?
Learning to play piano (slowly :), painting, reading, and spending time with my husband.
What do you love about the Winchester community?
There is a great arts culture in the community and a lot of events and festivals throughout the year. I love the historic downtown area local businesses and restaurants we frequent. Apple Blossom is a great time of year with so many events, there is truly something for everyone. Being a small business owner there are also great resources to help you learn and grow within Winchester. The Top of Virginia Chamber, Laurel Ridge SBDC, and many local networking groups have been a huge support to me, knowing you don't have to go at it alone.
Are there any specific places or events in Winchester that you particularly enjoy or recommend to newcomers?
Definitely the beautiful MSV trails and Museum and garden. The farmers markets and local shops and restaurants downtown are a treasure.