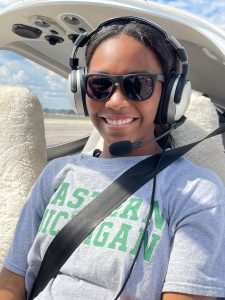 When retired Brigadier General Dave Brubaker mentioned wanting to establish a non-profit to offer students free flights to encourage them to pursue careers in aviation and other STEM fields, his daughter Carly Walker thought the concept was "just so cute!" Six months later, he was pleading with Carly to join STEM Flights, which has now grown into a nationwide non-profit in 42 states. STEM Flights connects volunteer private pilots with students to take them on a flight in their own aircraft, similar to the local Young Eagles program. STEM Flights is more in-depth, with students going through an application procedure, a longer flight, and access to tools after they fly that help connect them to scholarships, flight schools, and job paths that can connect the dots between their interests. Previous students have already advanced to internships, a C-130 pilot in the Air National Guard, and corrected course to achieving better grades and even cleaning their rooms according to one mother.
"Students see that when you get above your own town, your city, your problems, everything just looks a little bit different up there," Carly says. "When you look at the big picture, your problems that you believe are so big, really are not. They want to focus on something else, something bigger."
STEM Flights is proud to be based in Winchester, where we are at the forefront of technical advances, most notably Advanced Air Mobility. The airport is currently remodeling and adding technology for drones that will ultimately be able to transport people to Dulles, a planned mobility port at Tyson's Corner shopping center, and other locations. Shenandoah University and Laurel Ridge Community College are also on board, with SU recently hosting the Air Mobility Summit and Laurel Ridge planning programming classes. STEM Flights aims to collaborate with educational partners to expose more students to the wide range of aviation careers available.
Throughout the year, the airport and STEM Flights organize events to encourage local residents to visit the airport, such as a Valor 5K run directly on the runway, movie nights in an aircraft hangar, and other events where kids can get up close and personal with planes.
You can learn more about STEM Flights and how you or your student can get involved at StemFlights.org