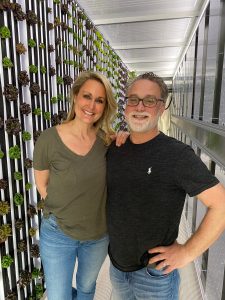 Most people do not imagine growing five acres of food on a quarter acre of gravel when they look at an infill property in a city, but that is exactly what Ann and John Fox saw when they surveyed 1001 S Loudoun St.
Fox Urban Farms LLC grows fresh greens, microgreens, herbs, and edible flowers using hydroponics within two enormous containers painted with eye-catching paintings by Sarah Gallahan. After 16 years of serving the public through Greenwood Grocery & Deli, they decided to figure out how they might best serve the community in the future while also freeing up their lifestyle after the deli's grueling hours.
Because the containers are totally enclosed, hydroponics allows the Foxes to give safe, wholesome food without having to worry about bugs or pesticides. Hanging seedling trays are automatically irrigated, and timed illumination sends the sun's rays inside regardless of the weather. Setting their own planting schedule allows them to spend more time with their family and devote more time to local charities they care about, such as recently helping update the paint in the cafe at the Winchester Rescue Mission.
Residents can pick up pre-ordered items or choose their selections when they arrive every Saturday. The Foxes also make sauces and other sides from leftover plants and supply speciality goods to nearby eateries. Edible flowers are high on their list of products they want to sell more of, and local chefs are enthusiastic about the idea. Our editors just enjoyed a delicious salad that included edible flowers from the gardens at a Literacy Volunteers fundraising wine supper prepared by D.A.H. Cuisines chef Kesha Harris.
As Winchester struggles with food deserts, the Foxes are pleased to announce that they will now accept government food benefit program payments, which will benefit the surrounding community. They also enjoy receiving stories about how long their products last in the refrigerator versus store-bought products.
Learn more and place your orders or join their CSA program at FoxUrbanFarms.com