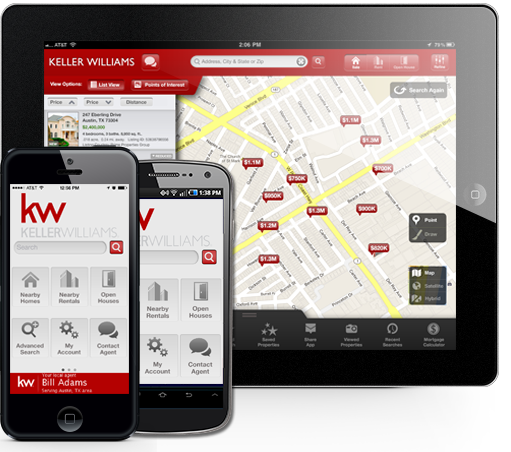 Let's be honest, smart phones have changed our lives forever. Buying and selling a home has also changed thanks to this new technology. We've put together the best phone apps for buying and selling a home it today's market.
Keller Williams Home Search – Okay, I might be a bit biased, but the good thing about the KW app is that you won't be looking at homes that are no longer available. One of the problems I hear from buyers all the time, they call about a property and I have to tell them it's already under contract, what a let down! KW updates listings to ensure you are only seeing homes that are still on the market.
Homesnap – Ever been driving around and wanted more information about a home right then? Just take a photo in Homesnap and all the home information will be pulled up! Even if it's not for sale! Save your favorites, make appointments to see a house, and get all the details right when you need them.
HomeFacts – When you choose a home you are also choosing neighbors, schools and more. Home Facts will give you all the additional information you need to consider when looking at homes, including crime statistics and environmental issues.
Locometric's Roomscan – Useful for sellers, buyers and even real estate agents, this app will draw your floor plans. Great for planning furniture placement to prepare for selling, planning furniture purchases as a buyer (not to mention remembering which houses had what floor plan as you are searching), and agents can get a leg up by including the floorplan in their marketing. Only downside, is it's only available in iPhone currently.
Around Me – Easily find out what is located near your home from restaurants, banks, parks, gas stations and more.
Color Smart by Behr – Not everyone will love that purple wall in your living room. With the Color Smart app you can take a photo and then choose a new color to preview how it will look once painted. Perfect for sellers to see how a new color may open up a space to improve selling price, or for buyers to see what a space will look like with their personal paint choices.
Photo Measures – The handy app allows you to take a photo of a space and write measurements right on the photo. Perfect for planning furniture from room dimensions, or taking a photo of something you want to buy at the store and making sure it will fit at home.