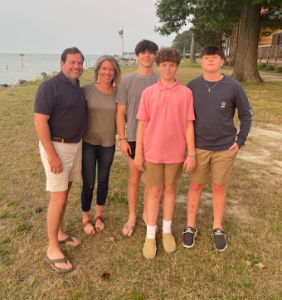 The Virginia state legislature, the oldest governing body in the Western Hemisphere, is where decisions are made that shape the destiny of the state, impacting the lives of its citizens in profound ways. Among the dedicated legislators who serve as delegates and senators, representing their districts and advocating for their constituents, one notable figure stands out – Delegate Bill Wiley.
Hailing from Roanoke and growing up on his father's farm, Bill's journey led him to Episcopal High School in Alexandria and later, to George Mason University. Bill has always had a love for sports, particularly football, and great passion for the outdoors, which led he and his wife Katy to Winchester.
As Bill settled into Winchester, he followed in the footsteps of his family members, where he found success in commercial real estate and development, until he found his true calling at Howard Shockey and Sons, Inc., where he now serves as a business development manager. Bill's commitment to service was further amplified when he was elected to Winchester City Council representing Ward 1, a role he held until 2020 when a new chapter opened up and he was appointed to replace the delegate seat previously held by the Honorable Chris Collins.
As a member of the Transportation Committee, Delegate Wiley has made it his primary focus to address the pressing issue of updating the I-81 corridor. Supporting the pervasive mental health problems, providing better benefits for veterans to encourage them to stay in the state, increasing school assistance, and protecting the second amendment are among his other key areas of focus.
When asked about his beloved city of Winchester, Bill readily recommends exploring the Museum of the Shenandoah Valley. As a former board member, he recognizes the treasure it holds and its unique contribution to the area. Moreover, he highlights Winchester's unparalleled qualities as a perfect place to raise a family and conduct business, with its high quality of life, strategic location, and reasonable cost of living.
Bill also believes that supporting the education sector and fostering higher wage opportunities are vital for the community's progress. He dreams of establishing a teaching hospital in Winchester, complementing the existing healthcare facilities at Valley Health and Shenandoah University.
You can connect with Delegate Wiley and his team via email at delbwiley@house.virginia.gov, or by phone at 804-698-1029.