Today's video segment featuring Misty Weaver of the Dream Weaver Real Estate Team discusses all the issues you must consider when you intend to buy a home, but you have a home to sell yourself.  So the topic for today is what you need to know when you are buying a home with a home sales contingency.
Video Transcript:
Hey, everyone!  It is Tuesday again, so I am back.  Misty Weaver with the Dream Weaver Team at Samson Properties, and I want to give you your market update and then talk about your options and what happens in the process if you want to buy a home, but you have to sell your current house first in order to do that.
So first up your market updates.  In the last seven days we've had 32 new listings in Frederick County and Winchester City.  We've had 11 come back on the market, meaning they were under contract and fell out for some reason. And we had 21 price decreases, so we are still seeing quite a few of those.
It looks like we had 16 expire without selling, so that's pretty much the same as the past few weeks, so we're still seeing the slow-down. A lot of price ranges are still very hot, especially under 200. Once you hit 350 and up it really slows down. If you have any questions about selling your specific house or its value, please reach out to me.
So let's talk about selling on a home sale contingency. So you have your home and maybe you want to downsize, move out of the area, or maybe you want to move up into a higher price bracket or size, but you need to sell your first house before you can do that for whatever reason; whether that is for financing or you're just more comfortable doing that. So here are kind of your options.
Obviously you can move twice, which nobody wants to do. No one in their right minds anyway. So you can move into an apartment or move-in with family or something like that, sell your house, get it all ready, sell it, and then once it closes buy your new house. If you want to move twice, that's definitely an option, and sometimes it's the only option that will work.
The other fear a lot of people have is that, you know, they don't want to put their home on the market if they haven't found something they love, even though they have to sell their house in order to buy the new house. It can be scary. You're not going to be forced to sell your home. If you haven't found a home or if you are still in the process, you can actually do a clause that says, hey, I need to find a home before you can actually close on the home that I am selling. So there are things that we can do for that.
But the main process is if you are ready, you know you are going to find something, you're ready to put your home on the market or it's currently on the market, here are kind of your two options and how the process works. So we have a home sale contingency addendum, and there are two options on that.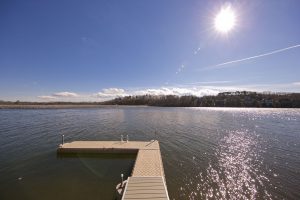 The first one is that you are putting the offer on and you need to get a contract on your home, and this is how long you think it's going to take. In that circumstance the seller that you're trying to buy from typically wants to know: Have you priced your home correctly; what their agent thinks is correct; can it really sell in that time; what is the likelihood that it won't? Because when they put their home under contract, typically they need somewhere to go as well, so if they have put a contrat on another house to buy or they have a timeline to start a new job in a different area and all those things, your home sale could affect not only the home that you're buying, but also the home that they are buying. So they want to know that you are really, you're right in the price market; you're going to have a buyer. They want to know what marketing your agent is going to be doing, especially if it's kind of a unique home or a certain price point that is slower. They want to know all of those things.
So in that case there is home sale contingencies with a kick-out. And what that means is you have that time to get your home under contract. But if it doesn't, the seller of the house that you are buying, they can take other offers. They can keep their home on the market, continue to show it, and take other offers. And if they get one that they like and they would like to accept it, they basically have so many days they can give you to say, hey, are you going to remove this contingency and buy my house at the price that we have agreed upon or are you going to cancel the contract so that we can accept another contract? So that is the kick-out. Basically they can kick you out of the contract if you can't remove that contingency or won't remove that contingency if they have another offer come in.
Now, they may not. Our new MLS makes this a little bit easier, so if you know our area just switched MLSes. It doesn't really affect you as a consumer too much, except when we can't find anything that we need, but that's a whole other issue. But in the old one it was very hard to, for you to see properties that had a contract that was still able to be shown. It just, they didn't really have that category, and so if your house is under contract like that, it still didn't show up on like Zillow and Trulia and Realtor.Com. This new MLS does have an 'active, but under contract' and so you will still see those homes on those websites that I just mentioned. So it's a little bit better if you are accepting a contract on a contingency because you can still market your property a little bit easier, but that's a whole other conversation. So if during that time they get that contract in and get another offer, they can kick you out. So that is a contingency with a kick-out.
If your home is already on the market and you have accepted a contract and now you want to go put an offer on a house, that is a little different, so there is a section on the addendum for that. And basically that kind of takes away the kick-out clause. So you go under contract and it's basically contingent on the settlement of your property rather than contingent on it getting a contract and then settling. So there's no kick-out in that case unless they were to write one in or something, but generally in our contract there's no kick-out at that point, you are already under contract on your home. You have the closing date. And now you're putting an offer on this one and you're going to usually line those up or have a couple of days in-between them. And especially if you are using funds from the first one to buy the second one. You need to make sure closing is aware of that and your lender has everything done. In Virginia everything needs to be recorded at the courthouse before funds can be transferred, so that can be an issue. If you're closing Friday late and it doesn't get recorded until Monday, you have a weekend where you need to figure out where to live and do all that stuff. So there are a lot of moving parts if you're doing this, but it can be done. We have the contracts and we have the options to get you into a new home without, hopefully, having to do two moves.
Your third option is selling your house with a rent-back. So you're a buyer who is essentially say, hey, okay, we're buying your home. We're going to close on this date, but until this date you can stay in the house. So it gives you a little bit of buffer. You can go to closing, you get your funding, all of that. But you can get it all done and close on the house you're buying and move. Typically that's going to be under 30 days, especially if you're using a loan to buy their home; their lender doesn't want them not living in their house for longer than 30 days when they first buy it. So you need to kind of have things lined up and do all that.
So those are your biggest options. There's a lot of other creative stuff that we can do, but if you are getting ready to buy and you have a home to sell, we can go over kind of how the timeline would work for you and the things that you need to think about; what time period your home would really need to sell; and also what is the inventory like in the price range or neighborhood or whatever you're looking for, what's out there and available that you would be able to get under contrat to buy so that you have a house to live in, which is our goal. We don't want anyone to be homeless, so we have lots of ways to work around that.
So if you have any questions, let me know. And Brieanna will be here later in the week with some more buyer info and I'll probably also be doing a video on buyers as well because we have a lot to talk about for buyers. So let me know if you need anything. You can contact me at dreamweaverteam.com or by messaging me here on Facebook and I will see you next Tuesday. Bye, guys!
Please do like us and share us, we are @dreamweaverteam on Facebook!  We have an abundance of great information and homes for sale and photographs and more!  If you're looking to buy a home in the region or pretty much anywhere in Virginia contact us!  We can help!  And see our links: