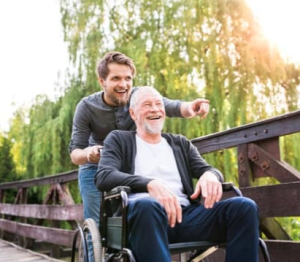 Founded in 1985, Access Independence has made a significant impact by bridging the gaps in accessibility and providing crucial support to those in need. In an interview with the CEO, we gained insight into the organization's mission, accomplishments, and their unique approach to fundraising and community engagement.
Charles Harbaugh IV joined Access Independence after eight years as the Director of Business at NW Works. Charles believed in his ability to use his community connections to grow and increase the services they offer. Since joining, the organization has experienced impressive growth, expanding their services by 30%.
Access Independence serves approximately 500 clients across six counties in Virginia, including Winchester, Frederick, Clarke, Shenandoah, Page, and Warren. Their commitment to empowering individuals with disabilities is evident through their swift response to their clients' needs. The organization provides essential equipment like wheelchairs, walkers, and ramps, ensuring their clients can navigate their environments comfortably. Moreover, they manage the finances of 150 clients, helping them live independently by ensuring bills, taxes, and mortgage payments are taken care of promptly.
What sets Access Independence apart is their dedication to employing individuals with disabilities. With over 51% of their staff being persons with documented disabilities, the organization fosters an environment where clients receive assistance from individuals who genuinely understand their challenges. These staff members not only possess expertise but also employ modern apps and technologies to enhance their clients' lives. Additionally, they assist clients with social security benefits applications and offer invaluable advice based on their own experiences.
Access Independence serves individuals who come to them directly as well as those referred to them by various organizations. As a state agency, they are geographically based and cover the Northern Shenandoah Valley region of Virginia. With a team of 17 dedicated individuals, they diligently work to address the unique needs of each client and make a positive impact on their lives.
Access Independence primarily engages in fundraising for specific projects rather than general expenses. They carefully select fundraisers that align with their civic projects, ensuring donors can see the direct impact of their contributions. By tying the donation amounts to specific items or services, such as wheelchairs or handrails, they give donors a clear understanding of how their support translates into meaningful assistance for individuals in need.
The organization collaborates closely with Blue Ridge Hospice, which generously provides medical equipment for distribution. Access Independence has developed a strong partnership, receiving necessary equipment such as wheelchairs and walkers from their warehouse. Additionally, the organization works with other entities like Stars, who provide grant funding, and the Department of Aging and Rehabilitative Services in Winchester, who offer oversight and government funding.
Access Independence recently launched a pre-employment transition program that focuses on teaching high school students with disabilities essential life skills. By imparting knowledge on topics such as job applications, dental appointments, public transportation, and driver's licenses, they aim to empower individuals from an early age and enhance their independence. This new program demonstrates the organization's commitment to enabling long-term success for their clients.
With a strong emphasis on expertise, community engagement, and targeted fundraising,Access Independence continues to be a driving force in creating a more inclusive and accessible society. You can learn more about how you can help Access Independence continue their mission at AccessIndependence.org