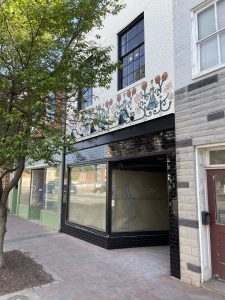 Piccadilly St is currently seeing a rebirth in the reuse of old buildings, with Four Square Architects, led by Kyle Hopkins, at the forefront of several projects. Walking through Old Town, you might be familiar with some of their recent projects, such as the transformation of an abandoned gas station into Pizzoco on North Loudoun Street, the Sarah Zane firehouse remodel, and the town homes currently under construction at the corner of Piccadilly and Kent Streets. Other future projects include Paladin's new location, which will have the city's first rooftop dining, and Four Square's new offices in the former flower store on Piccadilly.
We were pleased to talk with Kyle about his vision and what it's like to be involved in so many projects that have a real visual impact in Old Town. Kyle loves to integrate historical accuracy with modern enhancements by drawing inspiration from such things as roof lines and historical uses of structures.
The black subway tile on the exterior of the flower store building, for example, was chosen to resemble the black stone that was originally on the lower half of the building. The flower artwork over the door pays homage to the building's historical usage, and he plans to save the greenhouse installed in the 1940s.
"I enjoy dealing with historic structures… That's one of my favorite things to do, especially when you can breathe fresh life into them in a creative way that's not just restoration." Kyle's enthusiasm shines through as he talks project elements such as the flow of the new Paladin with a degree of detail that includes the style of serving ware that will be utilized at the bar.
As a group of real estate agents who lament poor design that frequently works against how we live our lives in our homes and commercial spaces, we always look forward to seeing the finished projects developed by Four Square architects. We'll have more information as projects proceed this year, so stay tuned for more from this one-of-a-kind firm. Learn more at FourSquareArchitects.com