As a transplant of 16 years now, I can tell you many things that attracted me to Winchester. I vividly recall my first trip out here to look at an older home that didn't even have electricity or plumbing at the time, my children were covered in burrs as they walked through the knee high grass, but this one view from Route 50 just before we got to Winchester made me fall in love: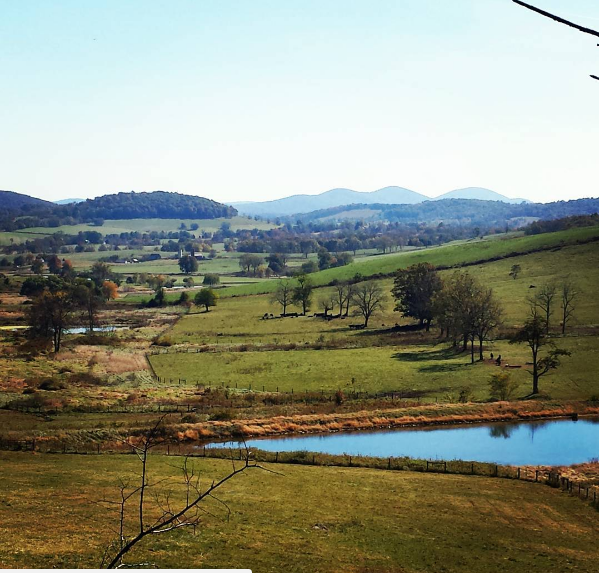 I still love that view and marvel every time I pass this spot on the road. Honestly, the thing that clinched the deal was housing prices. Coming from Northern Virginia and working in Washington DC our small little family couldn't afford a single family home at the time, and the prices were just getting higher. So we sold our little townhouse and found our first home in Lake Holiday!
Affordable
We aren't the only ones that have noticed how affordable Winchester is currently. AARP ranked Winchester as one of the most affordable communities in the country for retirees. Of course you don't have to be retired to enjoy this benefit of moving to Winchester!
The median home price in January 2017 for Frederick County was just $241,650 compared to $460,000 for Fairfax County. Property taxes for 2017 were a low .91% in Winchester City limits and an even lower .6% in surrounding Frederick County. Compare that to the whopping 1.52% in Manassas Park or the 1.16% in Loudoun County and you can see just how much money you can save by moving to Winchester!
Restaurants
The sheer number of restaurants that have opened in Winchester in the last 15 years is staggering. We've seen everything from Thai and Indian to new steakhouses, sushi and even a crepe place. The foodies have figured it out as well and come as far as two hours away for their favorite slice of pie. Here are just a few of my new favorites, ask me for recommendations or take the Winchester Food Tour!
Wineries and Breweries
I don't know about you, but the key to my heart, after food, is alcohol. Wait, that didn't come out right. I enjoy a fine glass of wine from time to time, and being so close to the heart of Virginia wine country is thrilling. Each winery has it's own local flavor and holds events throughout the year including a lot of live music and special gatherings. We've also been seeing new breweries open with specialized beer that are really taking off. We even have a walking beer tour in Old Town!
James Charles Winery and Vineyard
Valerie Hill Vineyard and Winery
Escutcheon Brewing Co.
Alesatian Brewing
Winchester Brew Works
Day Trips
Winchester is surrounded by small towns with big draws. Okay, maybe Washington DC isn't that small, but at only 75 miles away you can easily attend nightly shows at the Kennedy Center (or watch their free shows everyday online here) or take in an art museum or two for the day. Even closer you can visit the historic baths in Berkeley Springs, take a ride down Skyline Drive or hike in Shenandoah National Park, ski at Bryce Resort, or even go see the wild ponies at the beaches of Chincoteague and Assateague Islands.
Scenery
Winchester and Frederick County are surrounded by farm land, orchards, wineries and of course the Blue Ridge Mountains. Add in our gorgeous downtown walking mall and historic district and you have desirable views in every direction. Most neighborhoods in Winchester consist of larger lots with mature trees, and finding a home with land is almost too easy. This is an actual photo of a spot I can kayak to from my house: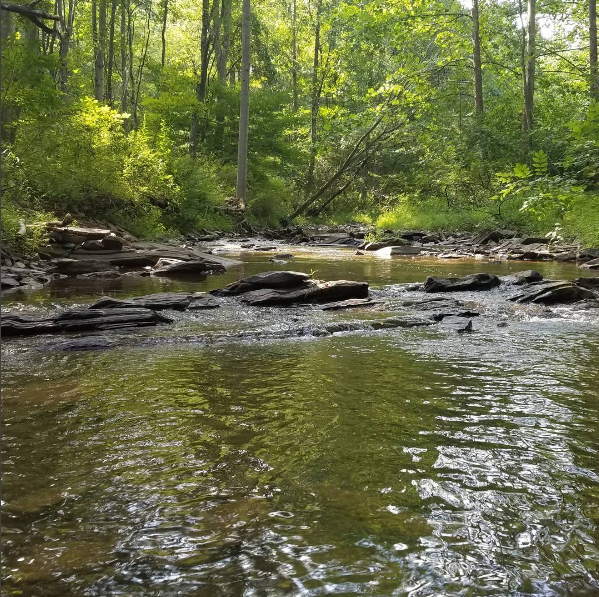 Music and Art Scene
You won't find any rave clubs in Winchester (I'm pretty sure that is a selling point, haha) but you will find a unique dedication to live music, whether it is hosted at a local restaurant like Piccadilly Public House featuring the Robbie Limon Band, or the BrightBox hosting bands from all over the country, you can find an event almost every night of the week. Shenandoah University also offers programs from their conservatory student body in multiple venues ranging from free to $25 a ticket, as well as their summer theatre program featuring your favorite musical, and their well rounded yearly calendar where you can find legendary performers. Spring 2017 features 18 free performances including saxophone recitals, the U.S. Airmen of Note, and my favorite each semester: Two Guys, Two Pianos.
Winchester's art scene is growing with a lot of help from the Shenandoah Arts Council and Winchester Art Market, notable galleries include Eugene B. Smith, King James Galleries, The Gray Gallery and Old Warsaw Galleries. You can also find local art being promoted in several stores including Tin Top Art, and even our office on the downtown walking mall.
History
Oh boy does Winchester have history. Founded in 1744, surveyed by George Washington, involved in 6 civil war skirmishes, 18 official historical markers for things like Fort Loudoun, John Kirby and Patsy Cline, historical buildings including George Washington's Office, Abram's Delight, and of course Patsy Cline's house, the list is almost endless.
Medical Center
The Winchester Medical Center is conveniently located at the edge of the north side of town for fast response times from outlying areas of Frederick County. Started in 1903 as a 36 bed facility in the historic district it has grown to a "445 bed regional referral center offering a broad spectrum of services that includes diagnostic, medical, surgical and rehabilitative care in both inpatient and outpatient settings. The hospital is the only Level II Trauma Center in the region, and is an essential resource for more than 400,000 residents in the northern Shenandoah Valley of Virginia, Eastern Panhandle of West Virginia and western Maryland. A Magnet-designated hospital, Winchester Medical Center is also an Advanced Primary Stroke Center, Chest Pain Center and Level 4 Epilepsy Center." On a personal level, my family has used the medical center many times for extremely serious life threatening conditions and always been impressed with response times and immediate referrals and transfers to larger medical centers like UVA when needed.
We also have a fantastic hospice system, Blue Ridge Hospice offers inpatient hospice services as well as private care in your home and bereavement services. Having used their service twice in recent years I can tell you that they are an incredible organization.
Apple Blossom Festival
On to brighter thoughts, if you have never attended the Apple Blossom Festival you will probably be shocked at it's affect on our small city. The festival is a week long event, with many events leading up to it in the months before the official launch. The festival includes a carnival, wine tastings, parades, music events, lunches, brunches, pie baking contests, pageants, celebrities, band competitions, races for kids and adults, fireworks, craft shows and more. The kids even get a day off of school for the festival, you might say, it's a big deal.
Low Traffic
Depending on where you are coming from this may or may not be a concern, but for those of us that transplanted from the DC area this was a welcome relief! I'm not saying there are not times of the day where you will see quite a few cars in front of you depending on what intersection you are sitting at, but you won't need an hour to get to the grocery store that is two miles down the road anymore. If you plan on commuting to Northern Virginia or beyond, you aren't likely to hit traffic until you reach Loudoun or Prince William counties.
Weather
When I moved to Virginia I was coming from Erie PA where I had attended Gannon University which is situated just blocks from Lake Erie. As you can imagine, that means I've seen a lot of snow in my day, and rarely (actually never in college) a school closing. I thought I was moving south when I landed in northern Virginia, but unfortunately we do still get snow, even in Winchester. That is probably okay for most people as the average temperatures in Winchester are fairly mild with highs in the upper 40's in winter and low 80's in the summer.
Of course, the winter of 2017 has been anything but normal as we have yet to see a snow storm and have seen 80 degrees in February. Only time will tell what the future holds, but I imagine we will always get to enjoy 4 seasons in Winchester. The fall changing of the leaves is magnificent, and the nature activities of each season can be enjoyed in our mountains, from hiking to skiing and beyond!
Tax Benefits
Recently recognized as one of the 10 great places to retire by Kiplinger, Virginia doesn't tax Social Security benefits, and it has no estate tax or inheritance tax. Seniors age 65 and older who meet income limits can deduct up to $12,000 each from state income taxes. Combine that with the property tax savings you will likely see, and you can understand why more and more people are choosing to retire in Winchester!
Well, there you have it, the top 12 reasons I think YOU should move to Winchester! Of course that is not the end of the list, I am always blown away by how helpful everyone in our community is and I would like to extend that to you. Feel free to reach out if you ever have any questions about Winchester or surrounding Frederick and Clarke Counties!