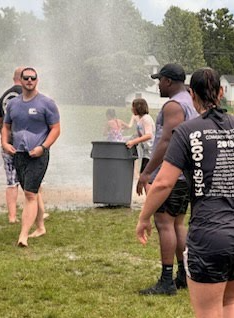 We sat down with the Frederick County and Winchester City Law Enforcement Foundation, to delve into their inspiring journey, goals for 2023 and beyond, and the vital role they play in supporting community policing initiatives. Caroline Barron, the Community Outreach Director, shared insights into the foundation's impactful work and their plans to enhance law enforcement efforts in the region.
Officially founded in 2009, the foundation has been actively involved in various projects aimed at bolstering community policing in Frederick County and Winchester City. Caroline highlighted their commitment to funding out-of-budgetary items that directly contribute to community policing, ranging from providing pizzas for junior academy programs to funding essential canine units.
One noteworthy achievement of the foundation is its ability to respond swiftly to law enforcement needs. Caroline mentioned that when a law enforcement officer requires a resource, such as a canine unit, they can turn to the foundation for direct support. This flexibility allows them to address critical needs promptly.
The foundation's recent efforts include supporting events like National Night Out and organizing programs such as Kids and Cops Camps. They even assisted in acquiring a custom uniform for an honor guard member, highlighting their commitment to all aspects of community policing.
Caroline underscored the importance of community policing, emphasizing that their goal is to ensure that a child's first interaction with an officer is a positive one. To achieve this, they organize events, conduct canine demonstrations, and engage in after-school programs.
However, challenges do arise, such as the retirement of K9 officers due to handlers' career changes and shifts in drug enforcement regulations. The foundation strives to adapt to these challenges by providing funding for single-purpose narcotics dogs when needed.
Caroline also shed light on the costs associated with canine units, with each dog typically costing around $12,000 to $13,000. However, the foundation has been fortunate to receive support from donors like the Elizabeth Clark Foundation and private donors, which helps offset these expenses.
Looking ahead, the foundation aims to raise approximately $150,000 over the next year to support various projects, including the upgrade of the law enforcement range. Caroline emphasized that their fundraising efforts are essential for sustaining and expanding their vital community policing programs.
Learn more about how you can donate or volunteer with the Frederick County Winchester City Law Enforcement Foundation at Facebook.com/FCWLEF/