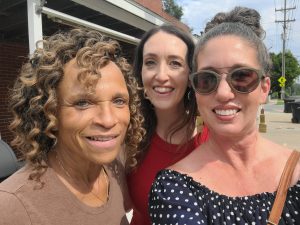 Where did Fats Domino, Ray Charles, James Brown, and Little Richard perform when they came to Winchester in the 1940-1950's? The Finley Recreation Center at 567 N Kent St. Opened by Dr. Taylor W. Finley in 1939, the town's only black dentist at the time, the building has gone from dental office to dance hall, skating rink to recreation center, restaurant to grocery store, playing center stage on North Kent St for almost 75 years.
Located across the street from the Douglas School, the city's only school for black children, students would sometimes skip school to attend daytime dance contests, and head there after school to spend their lunch money. Today Terry Sloane runs T-Bones Bar and Grill from the building, with plans to expand a grocery store in the rear. But a restaurant isn't the end of the story.
Better known as T-Bone since her basketball and softball days, Terry took it over after her father had a succession of businesses on the premises. Terry always loved cooking in the kitchen with her grandmother, putting their own spin on recipes in the time honored tradition of measuring by taste alone. The tradition continues with the T-Bones menu as Terry explains daily specials like Taco Tuesdays where they often feature curry and jerk chicken tacos. Gathering help in the kitchen can be difficult since many recipes reside only in Terry's head.
As we ventured outside to take a closer look at the patio, Terry's story turned back towards the community as she shared the neighborhood events they help carryout. An annual Easter Egg Hunt, fundraisers they have done for services needed in Uganda where the local kids made bracelets to sell, bringing a horse and buggy for the kids to experience – some of whom had never seen a horse, opening the space for career club and other community activities, and feeding the homeless for example. As we stood talking about the larger neighborhood Terry's father George Sloane pulled up to check on things and regaled us with stories of how the area had changed over the decades.
It became clear during our time with Terry and George that T-Bones is more than just a restaurant. It remains a community hub, a place residents come to receive more than just a meal, but to connect with neighbors and nourish their soul.
Visit T-Bones at 567 N Kent St or Facebook.com/Tbonesbarandgrill/