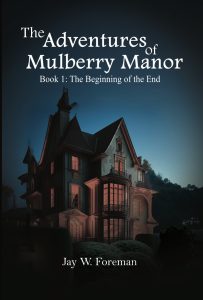 The Adventures of Mulberry Manor, the first novel in author Jay Foreman's projected five-volume series, is already making waves. Foreman's book has earned him a nomination for an Outstanding Creator Award, and it is currently being adapted into a screenplay with the intention of becoming a film or streaming series.
The story follows siblings Jade and Teddy Nicholson as they are dropped off at Mulberry Manor, a family friend's home, while their father hunts for their mother. The brother and sister are immediately in danger and must discover the secret of the house in order to survive. This mystery/sci-fi thriller is a page-turner that keeps you guessing and differs from Foreman's previous 16 works, which were largely children's books.
When Jay Foreman was a child, he was inspired to become a novelist after writing a letter to his favorite childhood author, Judy Blume. Foreman wrote to Blume, expressing to her how much he enjoyed reading Tales of a Fourth Grade Nothing and suggesting a new book she should write. Foreman was surprised to receive a signed 8×10 photo of the author, along with a handwritten message thanking him for the kind words and book idea. She suggested that Foreman write his narrative concept and become an author himself. Jay has kept that letter for inspiration to this day.
Jay Foreman is also a leadership development trainer and the former Chairman of the Frederick County School Board, which he presided over during the Covid epidemic. He feels that the best leaders are self-assured and content. He believes that strong leaders make the best judgments they can with the facts they have for the greatest number of people. Chuck Guffee, the owner of the local Chick-fil-A franchises, taught him the leadership lesson of understanding when to break the rules for the greater good. This lesson, he claims, has stayed with him throughout his career.
The Adventures of Mulberry Manor is available on Amazon.