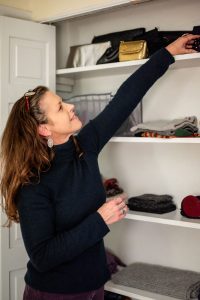 A PLACE FOR EVERYTHING
Once you bring a new item into the home, it should have a designated spot within 24 hours. Having a designated home for everything prevents you from wasting time looking for things you need or want. This also allows you to know when to stock up and prevents overbuying at the same time, which saves you money.
KEEP A RUNNING GROCERY LIST
This simple trick will keep you stocked up and cut down on trips to the grocery store.
KEEP A RUNNING TO DO LIST
Keep the list to 5 or fewer items and make 2 of them easy tasks to complete. Cross off the tasks on the list once you have completed them. Both of these actions will help you see progress quickly and motivate you to continue the list. Once all 5 items are completed, start a new list and repeat the process.
DISPOSE OF PACKAGING IMMEDIATELY
Boxes, tissue paper, plastic wrap, etc. take up a great deal of space, and you don't need them. Removing this clutter from your visual field will immediately make your room look larger and make you feel more organized. This is especially important now that the holidays are over and packaging may still be lurking.
ORGANIZE YOUR CLOSET LIKE A RAINBOW
You won't regret it. A rainbow closet takes a bit of time to put together in the beginning, but will save you so much time later on, like when you're late for work and need to pull together an outfit quickly. Plus, the rainbow closet is really easy to maintain. When hanging up your clothes, just put them back according to color.
KEEP SEASONAL CLOTHING UNDER THE BED
This really frees up space in your closet for the clothes you are currently wearing. Having fewer items in the closet makes it easier to see your options when searching for the perfect outfit of the day.
STAY THE COURSE ON LAUNDRY DAY
Commit to completing all 5 steps of the process each time, the: sorting, washing, drying, folding, and putting away. Finishing the job is key to avoiding the clean laundry pile up.
LABEL EVERYTHING
Labeling allows you to see at a glance what is being stored, which saves so much time. Labeling also helps every member of the family know where things are kept. This greatly increases the chances of items being returned to their homes after use, so they are available for the next family member.
DECORATIONS IN ONE PLACE
Store them in the order in which they appear during the year, starting with January. If possible, use clear, plastic totes to store decorations, so you can easily see what is in each tote. Also, labeling is key to grab and go access to decorations.
DECORATE WITH YOUR FAVORITE THINGS
Home should make you happy, so display those mementos from your travels, your family heirlooms, and photos of your friends. This frees up space in drawers and closets where these items might otherwise be stored, but the best part is: everywhere you look, there will be good memories to make you smile.
Learn more from Carrie Greynolds at The Staging Fairy