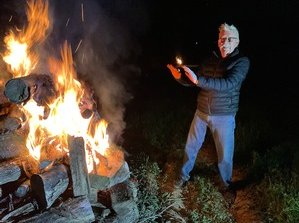 Virginia's wine history traces back to 1607 when the Virginia Company successfully established the Jamestown colony. Captain John Smith's accounts of abundant native grape varietals sparked a fervent desire to produce wine in the New World. In 1619, the Virginia House of Burgesses enacted Act 12, mandating each household to plant ten vines and acquire the skills of vineyard cultivation. However, attempts to create palatable wines were largely unsuccessful. By 1768, the American colonies were exporting less than 13 tons of undrinkable wine, characterized by the persistent foxiness and musty aroma associated with American grape varietals. Thomas Jefferson, renowned for his meticulous documentation, experienced lifelong failures in producing wine at his Monticello estate.
In the early 1970s, Gionni Zonin, the head of an Italian wine enterprise tracing its roots back to 1820, chose Virginia as the location for his New World vineyard. At that time, there were fewer than twelve vineyards in the state, most of which were small-scale private operations with limited success in cultivating vinifera vines. After extensive exploration, Gionni and the talented viticulturist Gabriele Rausse settled on a nine-hundred-acre tract of land in Barboursville, Virginia, in 1976. In the heart of the Piedmont region, they dedicated themselves to planting and nurturing a wine enterprise that now produces wines of exceptional character. Their visionary efforts established Barboursville as the birthplace of Virginia's modern wine industry.
Over the next two decades, other passionate and skilled individuals joined the cultivation of this burgeoning industry, driven by innovation, dedication, and a willingness to embrace risk. These early viticulture pioneers faced the challenges of a region known for its variable seasonal climate and limited experience in successful grape cultivation. Dennis Horton of Horton Vineyards emerged as a leading figure in varietal selection for the state after the mid-1980s when he became the first to commercially plant Viognier. This varietal has since been cultivated by over seventy vineyards and is considered a signature wine of Virginia. Horton's tasting menu now features wines from around the world, showcasing the unique presence of the ancient Rkatsiteli and the elusive Norton. Jennifer McCloud, the visionary behind Chrysalis Vineyards, has been spearheading the revival of Norton since 1997, alongside producing a stellar lineup of white wines. Jim Law of Linden Vineyards, known for his unwavering focus on terroir, has tirelessly studied the Virginia soil since the early 1980s and is now among the top winemakers in the state.
The wines and recognition achieved through the unwavering dedication of these individuals became the catalyst for the explosion of Virginia wine. By 2000, over seventy wineries had planted grapes, harvested their first crops, and released their inaugural vintages. This number nearly tripled in the subsequent decade.
As we stand today surrounded by local wineries including Briede Family Vineyards, James Charles, and Valerie Hill, it's interesting to look back and see the changes in varietals, blends, and cultivation, as well as the community and family aspect wineries have now taken on. You'll find live music, special dinners, and perks for being wine club members.
Briede has been especially innovative, trying to grow organic grapes when they first started and using biodynamic practices including insect habitats and native flowers to encourage good pests while lowering the needs for insecticides. They've also taken chances with introducing new grapes such as Cayuga and Arandell combined with their wine maker Matt Walsh of Walsh Family Wine varying wine making methods to come up with unique vintages. Wine club members were recently invited to a private barrel tasting to sample and compare prior vintages with new variations. Owners Paul and Loretta Briede take their goal of educating the public very seriously, including updating all of us on weather patterns that can have a negative effect on their vines. Recent drops in temperatures had Paul building bonfires and setting up heaters to ensure their crop wasn't devastated, sharing the results of his efforts on their blog and social media. Briede and other wineries make us feel a connection to what we are enjoying in our glass, and an appreciation for the hard work behind the glass.
It took 204 years, but Virginia's winemakers have found the variety and quality upon which Jefferson prophesied. Now it's time for the dreams and dedication of others to carry Virginia wine into the future.