In today's video segment, Misty Weaver of the Dream Weaver Real Estate Team talks about how to determine when the best time is to start your home search!  There are differences based upon individual circumstances, such as if you are a first-time home buyer or buyer who also needs to sell their current home.  So watch the video to hear about these differences, and a transcript of this segment follows the video for those who may wish to read all about it.
Video Transcript:
Hi everyone!  Misty here with the Dream Weaver Team at Samson Properties, and we are going to talk about when to start looking for homes this week.  So if you are a first-time buyer your timeline may be a little bit different than someone who needs to sell a home when they are buying as well.  So we're going to cover a little bit of each situation, but we're going to go pretty fast here.
So if you are a first-time home buyer and you are leasing right now, your lease end-date can impact when you should start looking of course.  If you can go month-to-month you may be able to extend your search period, but let's say you want to get out at the end of your lease, you want to coordinate closings so you can just move from one place to the next and not have to worry about anything… so here are kind of the things to think about.
Number one – how long does it take for a closing in our area?  Typically it's 30 to 45 days.  It can be longer.  You can try to get that approved, but that's kind of the average right now of what the bank needs and what the sellers will accept, so 30 to 45 days, about a month to a month and a half.  So we're back there.
Now, how much time do you need to find the home, put in an offer, get it approved, all of those things until you get to closing?  So generally it's going to depend on the area you're looking in and the price range.  So if you are a first-time home buyer and you have a very limited budget, say under $200,000 or you're under $150,000, you're going to have a lot of competition and not many homes on the market.  So that means you might need to start looking a little bit earlier so that when something comes up you can jump on it.  And if nothing is coming up, then you have a little extra time until something does come up.  That can be an issue, though, if something does come up right away.
How are we going to handle your lease and getting out of it?  If you're staying with family, that can be a little bit easier, but those are the things that we can talk about.
So right now if you are looking under that $200,000 price range, I would say give yourself at least three months to look, maybe longer depending if you're really low budget.  You may need that extra time, so maybe you can go month-to-month on your lease until you find something instead of renewing for a year, if your landlord will let you do that.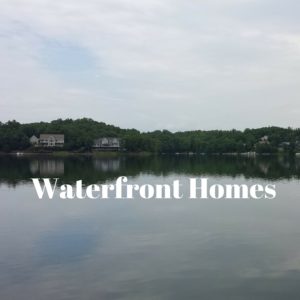 If you are looking in the $300,000 price range, you have a little more inventory, less competition, so you may not need as long.  If you are looking for very specific properties, such as waterfront, and you want  a ranch and you want a garage and  you want all these things that are very hard to find, you may need to give yourself a long time.  We see that a lot with clients who are retiring to the area or looking for a second home, so we definitely need to start that search a little further out; maybe a year depending upon what you're looking for and what time of year it is, especially since it's waterfront property.
So those are the kinds of things that you need to keep in mind.  The big thing is making sure that you are pre-approved when we are ready to start looking, and that way when that home does come up, we are ready to make an offer immediately, especially in those lower price ranges.
So if you are thinking of buying and you know when your lease is ending; maybe you have children and you want to stay in your current place until school is out, that can affect the timeline.  So reach out, let me know, and I will figure out when you should get out there and start shopping for a house.
I will see you next week with some more tips.  Bye!
Please do like us and share us, we are @dreamweaverteam on Facebook!  We have an abundance of great information and homes for sale and photographs and more!  If you're looking to buy a home in the region or pretty much anywhere in Virginia contact us!  We can help!  And see our links: