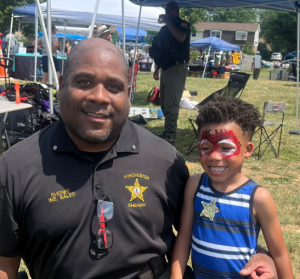 It can be difficult to discern what areas local law enforcement serve when there are many different organizations. So we sat down with Winchester City Sheriff William Sales to discuss what roles the Sheriff's office plays in our community. Eddie, as he is known to friends, was happy to give us an overview and a tour of the courthouse. His approachability was a great reminder of the best things about Winchester, the people. Sheriff Sales made it clear he is open to sitting down with any resident just as he did us, to share how he wishes to serve the community and answer any questions.
The Winchester City Sheriff's Office plays a crucial role in ensuring the safety and security of the community, primarily through court security and various other responsibilities that encompass the welfare of Winchester's residents. We were reminded of this as we entered the courthouse through metal detectors and were shown the box of confiscated weapons they had recently collected.
One of the primary responsibilities of the Winchester City Sheriff's Office is to maintain security within the courtrooms. This includes checking individuals for weapons and ensuring that proceedings run smoothly. Sheriff Sales emphasized the importance of having a deputy in every courtroom to ensure everyone's safety, from judges to community members. The focus here is clear: maintaining a secure environment for all involved.
Sheriff Sales shed light on another critical duty: transporting individuals under Temporary Detention Orders (TDOs) to appropriate facilities. When individuals with mental health issues need more help than a local hospital can provide, the Winchester City Sheriff's Office steps in. They transport these individuals, sometimes over long distances, to facilities equipped to handle their specific needs.
The Sheriff's office also plays a vital role in serving legal documents to individuals involved in court cases within the city of Winchester. This can involve serving subpoenas, summons, and warrants, sometimes numbering in the thousands each year. Last year the courthouse saw over 52,000 court cases for Winchester City and Frederick County combined. Sheriff Sales discussed the importance of handling evictions effectively and empathetically. When individuals face eviction due to non-payment of rent, the sheriff's office ensures the process is conducted smoothly, recognizing the emotional challenges involved. Their presence helps prevent potential volatile situations.
The Winchester City Sheriff's Office collaborates closely with local law enforcement agencies. They provide backup in situations where the police department might be stretched thin, helping maintain public safety during emergencies or busy periods. Sheriff Sales noted that during major events or crises, such as the George Floyd demonstrations, all local law enforcement agencies worked together to address the situation effectively. Another vital role of the sheriff's office is providing security during mass care sheltering events, such as those resulting from natural disasters or fires.
Sheriff Sales emphasized the importance of community engagement. Deputies regularly participate in community events, building positive relationships and demonstrating that law enforcement officers are approachable and supportive. The Sheriff's office also collaborates with community foundations, such as the Winchester City Sheriff's Office Foundation, to support various initiatives, including sponsoring events, providing resources, and funding training for deputies.
Sheriff Sales shared his journey from considering a career in the FBI and other federal agencies to ultimately becoming the Sheriff of Winchester. He highlighted his diverse background, which includes working in the prison system, counseling troubled youth, and providing family services. His experiences equipped him with the interpersonal skills and determination needed for a successful career in law enforcement including hostage negotiation and crisis intervention.
When asked about his vision for the future, Sheriff Sales expressed his commitment to excellence. He aims to maintain the accreditation of the Sheriff's office, hire quality employees, and provide them with the necessary equipment and training to perform their duties effectively. Sheriff Sales also advocates for transparency and encourages community members to visit the Sheriff's office to learn more about its operations.