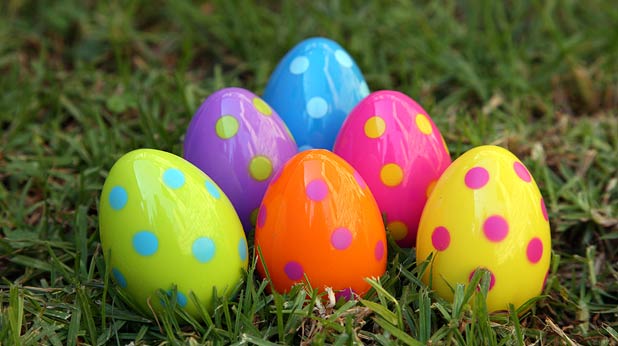 Bring the kids to these public Easter egg hunts held in various locations throughout the city of Winchester and the surrounding counties.
Jim Barnett Park Eggcessible, March, 23, 2018
10 AM
Eggcessible is the area's only Easter Egg hunt for children with special needs held on Friday, March 23 from 10:00-11:00 am in the Jim Barnett Park gym. Children may hunt for specialty retrofitted eggs. Eggs are then turned in for Easter goodies. The Easter Bunny will be there to meet and greet with children. FREE.
Winchester Happy Hour Adult Easter Egg Hunt, Saturday March 24, 2018
Join our first annual Adult Easter Egg Hunt! March 24, 12-1PM, eggs will feature bottles of wine, books, gift certificates and more! All proceeds support Froggy's Closet! Get your tickets here!
Jim Barnett Easter Egg Hunt, Saturday, March 24, 2018
9am
The FREE annual Easter Egg Hunt will be held on March 24 at 9:00 am. Bring an empty Easter basket and enjoy hunting for eggs and visiting with the Easter Bunny on Saturday, March 24 at 9:00 am. Groups will be divided into three age groups with all of the groups hunting at the same time. Location: Jim Barnett Park, Christianson Familyland. FREE. Age groups: Under 3, 3-5 and 6-8.
Jim Barnett Egg Splash, March 24, 2018
The indoor pool will be filled with floating Easter eggs at WPRD's Egg Splash event on Saturday, March 24. Collect a specific number or color to receive a bag of gifts. There will be two special eggs in each age group with a grand prize: free swimming lesson. A parent must be in the water with children of ALL ages. Age groups and times: Ages 3-5 (1 pm), ages 6-8 (1:30 pm) and ages 9-14 (2 pm). Fee: $2 per child. Activity #: 612337. Register by: March 16
Old Town Winchester, Saturday, March 31, 2018
Lawn of Old Court House Civil War Museum, Loudoun St
The Old Town Winchester Business Association will hold its annual Easter Egg Hunt on Loudoun Street from Boscawen to Piccadilly Streets and on the lawn of the Old Court House Civil War Museum. The event begins at 11am, for kids 1-12 years of age.