The largest of the three lakes that sit just off of 522N including Lake Serene and Silver Lake, Lake St Clair is home to 35 waterfront lots, most with homes on them already. The Lake St Clair home owners association also owns about 200 acres surrounding the lake for use by residents.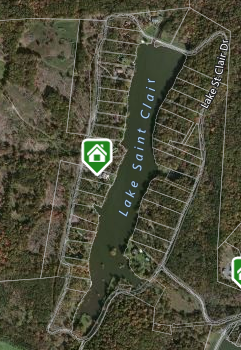 While Lake St Clair is the largest of the three lakes, motor boats are not allowed due to it's depth. Only manually powered boats such as kayaks and canoes are allowed, as well as swimming. If you are looking for a lake that allows power boats Lake Serene and Lake Frederick allow electric motors and Lake Holiday allows fully powered boats.
HOA fees currently run around $1000 a year (at the time we wrote this!) and there is a one time initiation fee of $5000. It is rare to find a home for sale in Lake St Clair so if you are interested in the area make sure you reach out so we can notify you as soon as one becomes available!
Lake St Clair Homes for Sale
Lake St Clair Sold Homes
359 Lake St Clair Dr, $254,500, 9/28/2017
625 Lake St Clair Dr, $330,900, 7/27/2017
231 Lake St Clair Dr, $370,000, 11/1/2013
789 Lake St Clair Dr, $180,000, 3/29/2013
625 Lake St Clair Dr, $210,000, 3/7/2003
775 Lake St Clair Dr, $350,000, 7/31/2002