Another important factor when considering where to buy a home is the health and wellness of you and your family.
In that regard, Winchester Medical Center and Valley Health System are the centerpiece of medical services to Winchester, Virginia and the surrounding areas.
By way of history, the Winchester Medical Center opened in 1903 as a 36-bed facility known then as the Winchester Memorial Hospital. It was located right in the neighborhood right near downtown Winchester. From the Valley Health website: "Its existence and continued growth owed much to the vision of Dr. Hunter H. McGuire and a board of 52 community leaders, several generous donors, the fundraising persistence of the Winchester Memorial Hospital Ladies' Auxiliary (formed in 1902), and a hospital-based training school for nurses whose students staffed the facility around the clock."
Over the course of the next 70 years and beyond, the hospital continued to expand its facilities, staff, services, and expertise to include innumerable board-certified specialists. In 1953 the five-story Stewart Street addition came into existence and the Winchester Memorial Hospital had expanded to 300 beds. In 1972 the accommodations rose to 400 beds.
Thereafter, stifled by an inability to expand further in their current locations, the Winchester Memorial Hospital board decided to move the facility from its existing location to a 100-acre site on Amherst Street. Subsequently, 1984 was the year the hospital received its new moniker — The Winchester Medical Center and, with Valley Regional Enterprises and Surgi-Center of Winchester, became the core of a new non-profit health system.
1986 saw the groundbreaking for the new 356-bed Winchester Medical Center, an $80 million construction project that was the largest in Winchester's history at that time. This new facility opened in January 1990, featuring all-private patient rooms and plenty of real estate upon which to further expand. Additions since that time include two medical office buildings, a diagnostic center, employee child care center, and a state-of-the-art Wellness & Fitness Center. The Winchester Medical Center fast became an all-encompassing facility able to attend to patients needing care in nearly every aspect of health and wellness.
In 2012 Winchester Medical Center opened the North Tower with an expanded Emergency Department and new homes for an expanded adult Intensive Care Unit and the region's only Level III Neonatal Intensive Care Unit.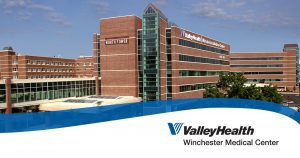 The award-winning Winchester Medical Center now boasts a 445-bed regional referral center offering a broad spectrum of services that includes diagnostic, medical, surgical and rehabilitative care in both inpatient and outpatient settings. The Winchester-based hospital is the only Level II Trauma Center in the region and is the critical health and wellness resource for nearly a half-million residents living in and around the Northern Shenandoah Valley of Virginia, Eastern Panhandle of West Virginia, and Western Maryland. A Magnet-designated hospital, Winchester Medical Center is also an Advanced Primary Stroke Center, Chest Pain Center, and Level 4 Epilepsy Center.
In conclusion, with a top class, state-of-the-art medical center serving Winchester, surrounding communities, and surrounding states, you can easily put a check mark in the box on your list of must-haves when choosing to buy a home in the Winchester area.
Address: 1840 Amherst St, Winchester, VA 22601
Phone: (540) 536-8000
And for more health, fitness, and wellness options check out:  Our Guide to Winchester Gyms and Fitness Centers.